Hell Yeah! Kindle World
Presented by Sable Hunter
Connected by blood ties and bonds of friendship, the Hell Yeah! world chronicles the lives and loves of a family of Texas men and women, the McCoys, who live by the code of the cowboy.
Adventure, unabashed sexual tension and tender intimacy plays out in a saga of stories that offer action and humor, all set in scenic locales from the Hill Country of Texas to the mysterious bayous of Louisiana. The plots of the tales are as varied as our own lives can be, but the world is one where right prevails, love conquers all, and holding out for a hero is not an impossible dream.
SCROLL DOWN FOR OUR RAFFLECOPTER CONTEST!
THE HELL YEAH COLLECTION
Good Enough
By MADDIE JAMES
She's from the wrong side of the tracks. He has a past she might not understand.
Kindle Link:
http://a.co/3lHs8QT
Mira
Featherston knows her place in life and it's not with Jake Remington. Rich guys play on the wrong side of the tracks but they don't bring girls like her home to mama. Since Mira has no expectations beyond the moment, she doesn't mind playing though. And she loves toying with the bad boy lawyer—until it gets her into trouble with her boss, Heath McCoy.
Jake Remington is a wealthy Texas cowboy whose family land borders the McCoy Highlands ranch, although he now practices law and lives in Kentucky. He's back to settle a land dispute between his parents and neighboring ranchers, and the McCoys. He plans to take care of business and get the hell out of Dodge before he gets himself into trouble. Again.

Because trouble for Jake always comes in the form of a Texas beauty he can't keep his hands off. The last temptation ended up with a lawsuit. But when he bumps into Mira coming out of his hotel room at Heath McCoy's resort, keeping his hands off the hotel maid is impossible.
He's fascinated by Mira. But with his past reputation, is he good enough for her?



One Night Behind Bars
By MELISSA KEIR
Instead of marrying the man of her dreams, bride-to-be Jeannie Hall spends the night behind bars accused of domestic terrorism. Her groom loses no time marrying someone else. As if this isn't enough, when she's cleared of the charges and released, she becomes the target of a vengeful person, and the stakes keep getting higher.

Deputy Hank Walker knows the beautiful woman is innocent, but he was forced to do his duty. Determined to find out who set her up, he starts digging deeper and vows to protect the woman who had stolen his heart.

Master matchmaker Draikoh San arranges for Jeannie and Hank to have a night to remember, but when a killer comes after them, will the two lovebirds end up wearing body bags or wedding rings?
Love Transcends
by NICOLE KUHN
Can their love transcend the test of time?
A song haunts Tim Perrot. Strumming it on the guitar, singing it in his head. Each time, it brings visions of a past life, lost love. Working hard, trying to build a better life than the trailer park he grew up in. But it's hard to shake the looks of pity and disgust from the stuck up rich families he works for.

Juliette Charbeaux's family used to rule New Orleans. Having some of the oldest blood lines in the town, and coming from real French Royalty, the Princess of New Orleans doesn't know how she'll survive the fall of their riches. Upon hearing the sad song from that trailer park boy working their lawn, she's shook with visions of the past.
Can their love transcend the test of time and reunite these lost lovers?
His Cowboy Heart
A twist of Texas fate leads to the romance of a lifetime.
Single dad Riley Marx has his ranch, horses and family with no room in his life for a woman, until Miranda Combs becomes his son's teacher. Sure, the lady is hotter than hell and everyone in town is taken with her, but Riley's been down that road before and was left with nothing but heartache and broken dreams.
Miranda Combs loves her new job in Texas and adores her students, even if one of them is intent on setting her up with his dad. Too bad the cowboy's gruff demeanor makes him difficult to get to know—outside the bedroom. She firmly believes she isn't made for a relationship and it is best to focus on her career and the great sex.
Neither Miranda nor Riley has had luck with love. Sometimes though, fate puts two people right where they need to be when the time is perfect for another chance at love and the life they could only dream of having.
Cowboy Born, Cowboy Bred
by D'Ann Lindon
Freedom or family? Only love can make the choice.
Photographer Alannah Murphy refuses to be tied down. She watched her parents struggle to hold onto their dairy farm until it killed them. The mere thought of the same fate makes her shudder. When she meets rancher Sterling Gentry she has to face her fears, or lose him.
Sterling Gentry longs for someone to hand down his ranch to. Like his father before him, he has sacrificed everything to hold onto the land his ancestors settled. But finding Ms. Right proves harder than he imagined. Then he meets Alannah Murphy with her big city ways. How he can ever take a chance with a woman exactly like his mother who abandoned him when he was a child?
Despite their determination to stay the course they've each chosen, attraction pulls them together as steadily as a nail to a magnet. Can these two find a way to mesh Alannah's need for freedom and Gentry's desire to hold onto his land?
Dust on the Bottle
by Lori King
Freedom or family? Only love can make the choice.
Freelance Photographer Monica McCray has one goal, never pass up an adventure.
Coming to Crawley Creek Ranch, she finds one.
Kyler DeWitt's inner demons are close to killing him.
Booze and self-pity leave him a ticking time-bomb.
When these two forces collide, a passion like no other ignites.
Now Monica realizes the adventure she wants includes North Dakota roots,
but will she be enough to keep Kyler grounded
or will she be just like the dust on one of his bottles?
From the Shadows
by DAWN MONTGOMERY
He would protect her at any cost.
Kindle Link:
http://tiny.cc/HyDmFtSMay
The equalizers are on the move, and the stakes have never been higher.
Women are disappearing from Galveston Island's port, and Gordon McKay faces his first mission as an equalizer: bring down the human trafficking operation and the organization responsible. He expected to find trouble. He just didn't expect it to be in the form of a take-no-prisoners firebrand like Destiny Miller.
Destiny lost her brother to war two years ago, and now a stranger claiming to be his friend comes waltzing up the steps of her bed and breakfast. He has more secrets than truths, but the eyes never lie. She's caught in a whirlwind of trouble and somehow Gordon McKay is right at the heart of it.
One kiss was enough to ignite the flames. Another could burn away everything.
Should she trust the man or the memory of the brother she thought she knew?
Legacy
by RHONDA LEE CARVER
One heart…two loves. Who will she choose?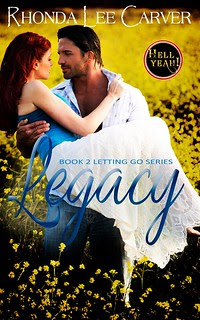 Kindle Link:
http://a.co/dy2aCX9
What does a person do when they fall in love? They make a move, unless they're eight. Loving Nann Fraley has been the story of Mac Sullivan's life. Best friend and confidant, he's been her shoulder, her rock, but no time has seemed like the right time to tell her his feelings. He can barely understand them himself.
Until he loses her to his brother.
Nann can't think of a place she loves more than Sully Ranch. The horses have taken up residence inside her heart…along with Mac, but he's too busy hobnobbing with the female flavor of the month falling at his dusty boots to notice Nann is all grown up. Moving on seems like the best thing to do, but tumbling into the arms of another Sullivan wasn't part of the 'moving on' plan. It just happened, and she didn't mean to start a Sullivan war.
Tragedy strikes and she loses both men.
After dedicating himself to a uniform, Mac is back in Kerrville, Texas and ready to take the helm at Sully…and ready to forget the one woman he can't have. His plans are derailed when he learns Nann has kept a secret…one with the Sullivan ice-blue eyes and coal-black hair. Had he really believed he could sweep the night he'd spent with Nann six years ago under the rug? He has no clue how to be a daddy, but he swears he won't lose everything he loves a second time around, that is if an outside source seeking revenge doesn't foil his intentions.
A Photograph of Love
by TINA SUSEDIK
An angry rancher. A burned-out nurse. Can they find love?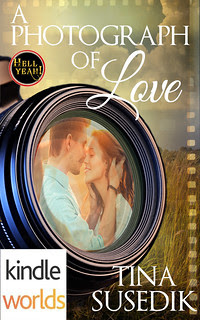 Kindle Link:
http://a.co/6u9a7hI
Cowboys, cattle, & cameras
Ranchers, rustlers, & romance
Trudy Selucas has watched too many people die. Burned out as a home hospice nurse, she realizes she needs a change. When she accepts an invitation to visit a friend in Texas, she uses her love of photography and roams the Texas countryside taking pictures to soothe her aching soul.
After his parents die, Lincoln Phister must leave college behind and his dreams of becoming a photojournalist. He spends the next ten years raising his three younger siblings and working the family ranch. Now he is frustrated with his job, cattle rustlers, and lack of a love life.
A chance encounter with a rattlesnake brings the two together. Lincoln's anger nearly drives them apart. Can Trudy convince him to follow his dream while finding their own photograph of love?
Make Me Crave
by TINA DONAHUE
She's run from a dangerous man into the welcoming arms of two strong Texans. Justice will be served. Lives will change. Passion won't be denied.
Kindle Link:
http://a.co/g6U0hkp
Having fled New York and an abusive relationship, Mia's hiding out at Intimate Cravings, her private BDSM resort. The action's scorching, her security guys beyond hot. Ex-military, Chance and Riley are everything she's craved but figures she can't have. When it comes to ménages, she's a virgin, and they might not be interested.
Think again.
One problem solved.
However, she suspects her ex is stalking her.
Riley and Chance aren't about to let anyone harm Mia, a smart and determined woman they intend to pleasure and protect. Her ex might be bold on Wall Street. In Texas, he won't last a minute against them.
Bound by love, the threesome sets a trap that will bring Mia
peace and lead them to sultry days and impassioned nights.
Out For Blood
by JORDAN DANE
After the Jaguar destroyed his world, former CIA operative Mercer Broderick targets the faceless cartel boss using the Equalizers as pawns in a deadly game to avenge the murder of his beloved wife and child.
Kindle Link:
http://a.co/dL2gkFv
Mercer Broderick is haunted by the death of his wife and son. While on a covert mission as a CIA operative four years earlier, he'd been on foreign soil instead of protecting Keara and Braeden in America. His family's killers were never found. With his entire world destroyed, he quit the CIA and struggled for a reason to live, wallowing in grief and an all-consuming guilt.
Mercer emerged from the fog of devastation, obsessed with swift justice and driven to honor the memory of his beloved wife and child. He forged a network of wealthy benefactors across the world—the Alliance—influential, high powered people who secretly yearn for a new world order of vigilante justice. With the support of a mysterious Danish woman, Eva Henriksen, Mercer built Zion in the mountains of Wyoming, a fortified sanctuary for his handpicked team.
After Mercer gets a lead on who ordered the hit on his family, he's drawn to El Paso to take on the Galvez cartel and the faceless man known only as the Jaguar. Accompanied by his exotic bodyguard specialist, Keiko Kayakova—a blue-eyed Japanese beauty trained by her lethal Russian father—Mercer calls upon the Equalizers to join his Alliance team—Detective Santiago Gonzales, computer genius Saxon Abbott, Micah Wolfe and Jet Ivan Foster. With the clock ticking, Mercer must take down the Jaguar before he closes up shop and disappears forever, taking his fortune and leaving a bloody carnage of dead witnesses.
But when his plan derails, Mercer is forced to risk his life to stop a mad man
from getting away with murder.
GIVEAWAY
$10 Amazon Gift Card
GIVEAWAY DIRECT LINK:
http://www.rafflecopter.com/rafl/display/717ea3825/
#HellYeah #KindleTour #HellYeahKindleTour #Live #Oneclick